What a Beautiful Troll!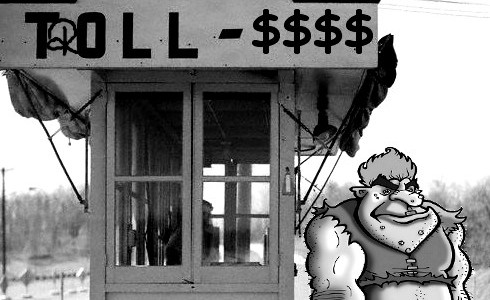 I've been ragging on the public officials a lot lately. I hate the excuse that they are "just doing their jobs". But, in reality, they are! They hate their job just as much as we hate ours. Going through the troll booth the other day I met an old woman who actually made me feel bad about handing her a handful of the most meaningless round things in existence; yes, I handed her a handful of pennies!
She didn't care, though. She struck up a conversation with me, even though it was so busy. She complimented my brand new hair cut and dye job, which really surprised me because it's edgy and she was elderly. She didn't even bother to count out the change, she smiled and dropped it in her drawer, "Who cares?" she said with a smile, "It's all spendable!"
And as I drove away from the building hindering my travel, I felt good about my encounter and good about my new haircut! She was sweet and kind. It sucks that she extorts us in the most trivial way, but, that doesn't make HER a bad person. She's just trying to make ends meet like the rest of us. Uneducated in the ways in which they are killing our liberties, like most people they just don't know of any other way to live. Trolls are people too.
---
I think that old woman manipulated me to stop my saga of the Troll.
peAce, lOve, & anArchy


~PoeZebel*