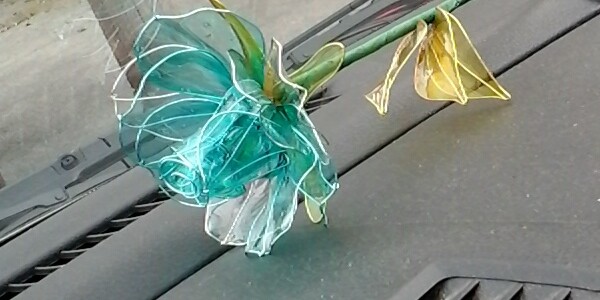 The only cling to polyamory I have left is my beloved friendships and my relationship with myself. I believe I've posted it someplace, but, in case you don't know, I date myself. I spend a lot of time with me and make myself a priority. I will never put someone ahead of me. They can be my partner; but I am my own number one! My reasoning behind it is not important, though maybe someday I will discuss it.
In my polyamorous relationship with myself, I take myself out for coffee; sometimes just spending hours inside the coffee shop with a book or with my computer. Sometimes I sketch, sometimes I just relax. I don't bring anyone with me on these dates. I don't double date with myself. Sometimes my dates are more elaborate, I'll take myself out to dinner. I will court myself. I buy myself roes; not just any roses, I buy myself "crystal roses" they're not really crystal; plastic. But they never die.
This is what I'm going to talk about today. I am going to talk about the roses.
I keep them around to remind myself of all the symbolizing factors associated with the multicolored nature of the rose. I'll start with my first rose. I bought two. A red and a yellow one. I brought one to a guy I was seeing and kept the other for myself. I originally intended for him to have the red one and me the yellow, but, he liked the yellow one. Said it was gold! He wanted that one. I shouldn't have given him a choice. BUT; it started me off to realize the passion within myself, and the direction of that relationship.
The red rose is a rose that describes a deep desire for an individual. It is a sign of respect for the receiver, an indication of their courage. It describes a passionate relationship. One that isn't easily disposed of. It conveys a deep emotion for the recipient; be it love, longing or desire. It describes a relationship that is passionate with someone that you admire. Having the red rose as my first rose reaffirmed that I will always be my "primary partner".
The next rose I bought for myself was the white one. This one was to remind me that I am worthy of love and myself. When you receive a white rose you are being told by the giver that they are worthy of you. After that I bought myself a pink rose; this one was to remind myself to be gentle with myself. To appreciate myself. The yellow rose was given to me from a friend who knew I was doing this. The yellow rose is an indication of strictly platonic emotions. It represents joy and friendship. It means they care but, aren't interested in something deeper.
After these I started to acquire somewhat unnatural colors. Purple/lavender. This color represents enchantment. A "love at first sight" sentiment. There is no indication of a life-long continuance of said feeling, but, an understanding that the giver is fascinated by you and adores you. The blue rose represents elusivity, the unattainable and the mysterious. The blue rose says that they want you but know they can't have you.
There are more roses to gather. More colors to acquire. And more lessons to teach myself about my relationship with me. These roses are just a reminder to love myself. To appreciate myself and treat myself. I'm going to be with me until the day that I die, I might as well enjoy the ride!